Aussiebum is releasing two new underwear ranges that will have men wearing basic colors rather than prints. This blog post presents the shift by Aussiebum from print design powerhouse to king of basic colors.
Aussiebum underwear for men is probably one of the very best brands at using video and online viral campaigns to promote their products. This is one of the reasons that I keep posting about them on the blog. And it doesn't hurt that Aussibum in fact produces high-quality and interesting men's underwear styles.
I've always recognized Aussiebum for their innovative print designs, which have graced numerous briefs and trunks underwear collections over the years, like the Manga and Collector collections: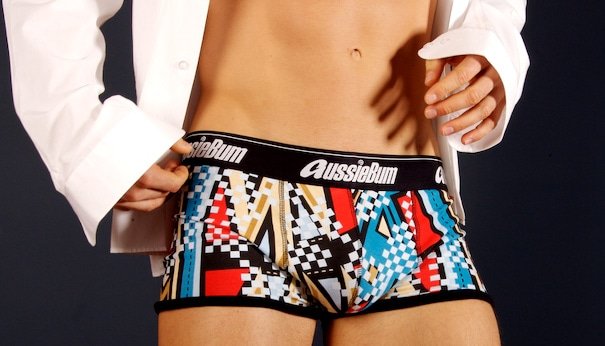 New ShowIt and Journey ranges go back to basic colors
These days, however, Aussibum is releasing the new Show It range as well as the interesting and all new Journey collection (read more over at Menswear review), which I have a video presentation of at the bottom of the post.
What we are seeing with these new underwear collections is a continued focus on classic (low-rise) briefs as the preferred style for men by Aussibum, but also a move away from the use of exotic print and pattern designs towards basic colors like black and white.
The Aussiebum ShowIt Range
The Show It Range is a good example of this trend, as it is only available in black and white colors. Though I really like Aussiebum's print designs, I have to say that these classic-styled briefs and trunks will have any man looking stylish in the bedroom, in the locker room, well, just about anywhere.
This underwear collection will appeal to the more conservative underwear consumer, who is looking for something less flamboyant in favor of the more classic cuts.
The Aussiebum Journey Range
Like the Show It styles, the Aussiebum Journey Underwear Range is limited to hipster trunks and briefs. However, Journey is a wider range when it comes to choice of colors, but the trend is clear – no print designs or flashy colors.
Aussibum want men to dress their private parts in either black, white, or red underwear. Here are some pictures from the new Journey men's underwear from Aussibum. Not that I am complaining. This guys certainly looks super classy in these basic colored briefs.
This underwear will go with you everywhere and compliment everything you wear, which is Aussibum's official vision for the new range. Also, watch the movie at the end of the blog post to get a better feeling of Journey briefs and hipster trunks.
The final proof… Aussiebum Banana underwear
The focus of the all-new Banana underwear range is actually more on the fabric from which the briefs and hipster trunks are made. Made from the weave of fibre extracted from the banana plant and mixed with soft organic cotton, these undies are supposed to be comfy, stylish and made with the conscious effort of ensuring minimal environmental impact.
There you have it :) The perfect underwear for the environmentally concerned male underwear consumer!
But what's also interesting is the color of the briefs in the video below. Again, the base color of the underwear is white with a green waistband and a yellow Aussiebum logo (I get it, banana colors :)).
But again, no print or fun banana patterns. It will be interesting to see if print designs on men's underwear is generally on the way out, or if it is just Aussiebum…
Print is still the trademark design of brands like Ginch Gonch and Piss & Vinegar, and I don't see these brands dying off just yet.
Want more Aussiebum videos? Also check out videos of the Aussiebum LockerBoy and New Classic collections.
Also, watch the all new Aussibum HUNK video!
And read my raving review of the Aussiebum HUNK brief.
GD Star Rating
loading...
Related posts:
2 Responses to "Aussiebum Underwear 2010 trend: Going back to black and white. New Show It and Journey collections."