Archive for the 'Tribe' Category
And as promised here's the second batch of photos from Andres Ramirez' recent photo shoot.
If you missed out on the first set of underwear pictures, go here to check out the great shots featuring sexy men's underwear from brands such as Andrew Christian, Aware Soho, Ginch Gonch, Jake Joseph, James Tudor, Joe Snyder, Marcuse And PPÜ Underwear.
Today, the male underwear model is one Cristian Carcela – an exciting model of only 19 years of Cadiz (Spain). Sports a perfect body. Measures 1,81 and exudes sensuality and eroticism. Currently combines his studies with his passion, fashion. A good starting point!
Anyway, the brands show below include 2eros, Andrew Christian, Candyman, C-In2, PPÜ Underwear, Timoteo, Toot, Tribe, Xtg And Xtremen.
Enjoy and have a great weekend.
GD Star Rating
loading...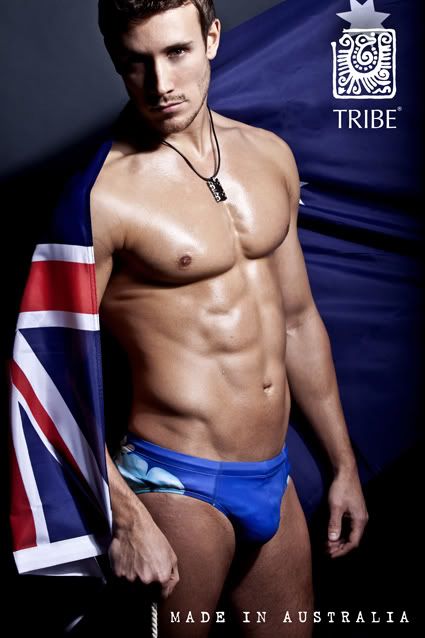 Men's underwear from Tribe – www.tribeunderwear.com.au
Click to to see this men's underwear picture in full size
GD Star Rating
loading...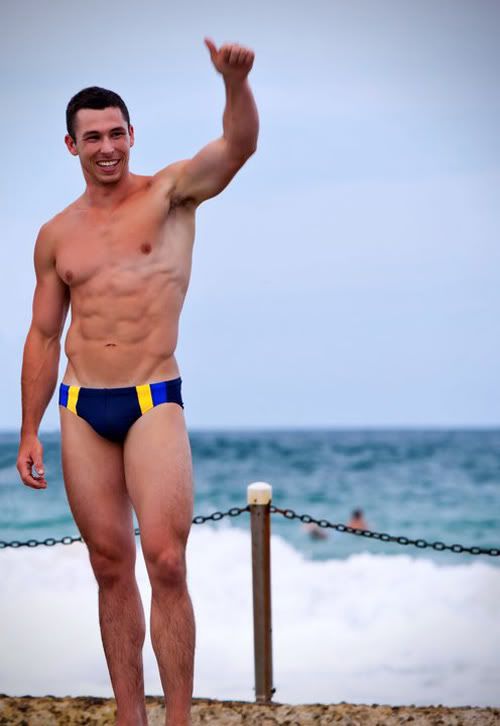 Men's underwear from Tribe – www.tribeunderwear.com.au
Click to to see this men's underwear picture in full size
GD Star Rating
loading...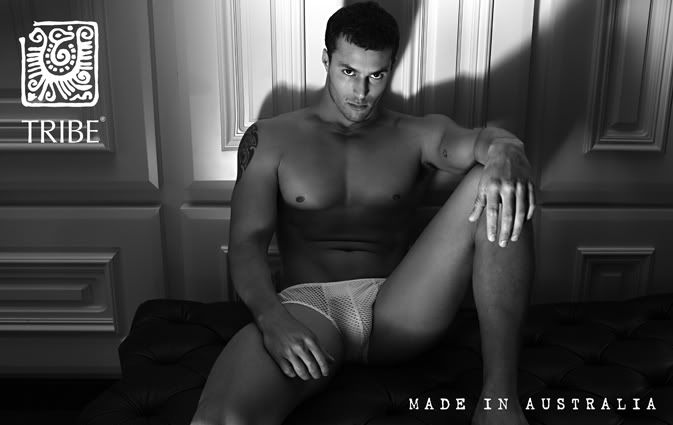 Men's underwear from Tribe – www.tribeunderwear.com.au
Click to to see this men's underwear picture in full size
GD Star Rating
loading...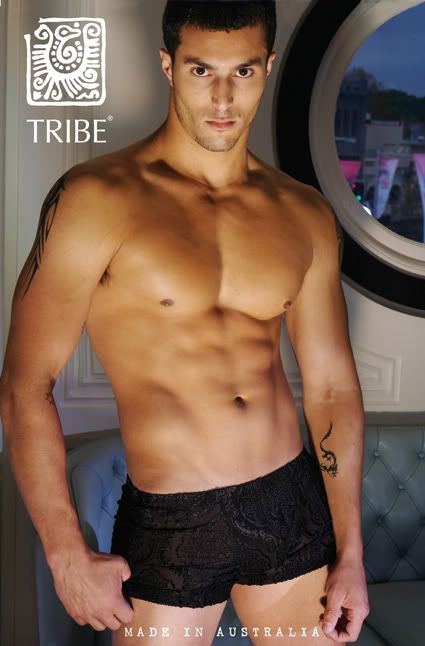 Men's underwear from Tribe – www.tribeunderwear.com.au
Click to to see this men's underwear picture in full size
GD Star Rating
loading...
We've waited and waited, and today it's finally here: The all new 2(x)ist RESORT range.
And we've got exclusive pics!
Maybe you've already seen the briefs and sports briefs pics, but today we show the never-before-seen official artwork for the trunk style. See it and the other gorgeous promo shots below.
A big thanks to our great friends over at 2(x)ist for sharing this with us.
Our first impressions? The RESORT range has the classic 2(x)ist design trades written all over it and the available cuts (contour pouch brief, sports brief and No-show trunks) will be well-known to any 2(x)ist fan.
We really like what we've seen so far, and we are extremely excited about the 68% rayon, 32% polyester fabric blend. Usually, a fabric mix like this means high breathability and a lightweight feel. Great for summer time.
We cannot wait to try them out.
We've spotted the RESORT briefs in several webshops already and you can get them for around $22 USD – trunks are $26.
We recommend that you get your 2(x)ist RESORT undies at UnderBriefs or Skiviez.com.
Photo credits:
Collection: 2(x)ist RESORT
Photographer: Roger Moenks for 2(x)ist
Creative Director: Jason Scarlatti
Model: André Ziehe for 2(x)ist
Agency: FORD Models
GD Star Rating
loading...
By Valdamar
The summer is upon us in the western hemisphere so we look to the southern hemisphere for some hot trends in swimwear.
We've looked at two great suits from Tribe, a trend-setting Australian brand that specializes in the "funky, sexy, fun" look. Tribe has truly captured the suave styles of Europe and combined them with the cool panache of Australia.
And of the three swim suits by Tribe I had the great pleasure of trying out, I will tell you guys, I saved my favorite for last. It's the Tribe Swim Brief, a classic bikini cut with a touch of extra flair from Tribe.
The Swim Brief comes in eight remarkable varieties; several tropical flavors, a bright swirling red sexy number and three spliced color combinations. I chose a navy brief with yellow and cobalt (blue) splicing, and I love it!
The brief is constructed of a high quality 80% polyester and 20% spandex material and crafted in a top of the line manner. The fabric is sturdy yet stretchy enough to be supportive and the pouch is double lined with the material for extra support and modesty.
The stitching is very secure and solid. This suit is made to be used, worn and to last. The pouch has a center seem fabrication giving you space to enjoy your wear in comfort and to truly highlight the shape of your package.
The pouch is a perfect size being roomy, unlike competitive swim suits, yet not overly bulky becoming awkward. The brief also come with a white drawstring on the inside of the waistband for added security. This is one great swim suit.
I was very excited to try this suit out, and as soon as it arrived at my house I could immediately tell just from feeling it that it was made with a higher quality than some other suits I have. It was definitely one I could wear with out worrying about it falling apart or losing it's support or look.
I have some suits that are made to look good but not to last nor to actually be worn in the water, especially if you're actually going to swim or be active. I could tell this suit could be worn in a competitive game of beach volleyball or for a long day at the beach or pool with a lot of physical activities and it will more than meet the challenge.
So I took the suit to the pool, unfortunately it isn't quite summer yet so I couldn't take it outside. I did wear it several times to an indoor pool I work at and a gym I go to and washed it in my machine air dried it and it still looks like new.
By the way it's not recommended to machine wash as with any swim suit, but I am a rebel and always do. It even survived the super chlorinated pool that has bleached out several suits and rash guards I have.
During wear I was very comfortable, the brief wears well and sits comfortably with no riding, chaffing nor binding. I had very little adjusting to do. And I love the way it looks! This is a GREAT addition to anyone's swimwear collection with a perfect balance between sexiness, fun and class.
Thank you Tribe!
What
Verdict
Style and look?
The style gives you an enduring masculine presence with a classic pool or beach appearance. This is a great suit that is definitely eye-catching yet at the same time not so loud or overstated that you would feel uneasy. And the color splicing really draws attention to your manly form.
Suitable for?
The beach or the pool, this is a suit that made not just to be seen or pranced around in but to be worn and put to use. No need to feel you have to go easy on it, slide it on and have fun.
Fit and quality?
The fit was great and the quality is with out a doubt top notch. All of Tribes suits and underwear are 100% Australian made with pride.
Is the price right?
The Tribe Swim Briefs come from $51.95 to $56.95 (all prices in Australian Dollars, $55 – $59 USD). So yes that is a little bit expensive I won't lie. However I will tell you that the quality and style you get from Tribe's swim suits are of the highest standards. If you are looking for a suit you can wear over and over this Swim Brief is worth the price because it will last.
Best thing about it?
The quality and construction of the brief. I love feeling so secure in it and knowing that it will take whatever I put it through. It's comfortable, wearable and looks HOT!
Overall grade
★ ★ ★ ★ ★

TRIBE DOES IT AGAIN! 2 out of 3 suits have gotten a perfect score! Congratulations Tribe because we don't just hand these out to just anyone but I honestly could not find anything wrong with it. And there really is nothing that I would change about it, except maybe make it $10 (Just kidding Tribe). I look forward to seeing what Tribe comes up with next. I know they have some amazing sales on underwear now to clear out this collection, which means a new one is coming! I better get to review them, AHEM. So thanks again Tribe and may all you men enjoy your summer in whatever sexy suit you sport.

Buy it here
www.tribeunderwear.com.au
GD Star Rating
loading...
By Valdamar
Tribe is a brand that certainly has a style of it's own. It seems most brands, not all, from Australia focus on the fun playful side of masculinity and give us underwear and styles that bring out that mischievous inner boy who never grows up yet contains the sexiness of an adult.
Tribe, however, has taken a more European approach to their style giving men a sophisticated, classy and elegant sensuality to their style and designs. This is completely evident in the Slim Side Brief – one of several styles available from Tribe.
Like all of Tribe's underwear, the slim side brief gives men a daring and bold choice of fabrics and colors to choose from. The brief comes in "Burn Out", "Abstract Mesh" and a red or black "Devore", a velvet pattern on a fine mesh background. I took a look at two, the Burn Out and the Abstract Mesh.
The "Burn Out", like the Devore, is a velvet pattern on a fine mesh background. The burn factor comes from the coloring a burnt orange blending in to a rusty brown.
The brief has a very regal quality to it, looking like the fabric you would find used as drapes in an elegant hotel. However, the material is as soft and stretchy as any high quality underwear you could find.
The fabric is 60% nylon, 30% polyester, 10% elastane giving it a sheer, sleek and stretchy quality. The brief wears well and is comfortable. It's so light weight you almost forget you even have anything on.
When I first handled the brief I was impressed by its soft and smooth feel, and wearing it I wasn't disappointed. It handled several wearing and washings and continued to stand up to the wear and tear and looks like it will last. Great quality construction and %100 made in Australia.
The subtle floral pattern in velvet almost gives it a feminine quality, however once it is on you, it holds your shape and is definitely a masculine flavor. The sheer quality gives a peek at what's underneath but the pouch is lined with the same fabric giving a little extra modesty to the crotch. This brief scream sophistication and definitely is a very refined and sexy pair of underwear.
The "Abstract Mesh" has the initial appearance of a maritime bikini. It reminded me of a sexy merman or even what Aqua Man would wear in his down time.
I think this is due to the coloring, very aqua in shades of green and grey with a black abstract design. And the almost fish net-like appearance of the mesh makes it very aquatic. This too, like the burn out, transforms once it is on you and forms to your masculine silhouette.
When I first saw the brief I thought it had the appearance of a panty due to the thin almost frilly black elastic band. But this, too, changes once on you, when it takes a stronger and more supportive presence.
It is a hot pair of underwear that gives the look of refinement and pure male sexuality. This is not a boy's pair of underwear. When I first put the brief on I could tell it was mesh, not that it was uncomfortable.
The fabric is a %94 polyester and %6 elastane making it sleek and form fitting. I don't know if I would wear it as everyday underwear as the mesh can get a little irksome, although I did wear them for about 24 hours and they were fine.
One funny note; I woke up after sleeping in them with the typical situation down there, and noticed that my penis had the pattern of the mesh imprinted onto it! It wasn't the most comfortable feeling, but again not bad.
This is a great pair of underwear to show off that high end chic man that you are. Tribe is a magnificent designer brand that will bring out the high class guy in you and display his as an asset to the world.
What
Verdict
Style and look?
These briefs have an amazing style that is at the top of its class when it comes to sophistication and manly elegance. The look they give you will without doubt draw attention to your style and speak wonders about the class you have.
Suitable for?
Special occasions where you want to make a better than good impression. I don't think I'd use them as everyday underwear even though they are durable and comfortable enough to do the job.
Fit and quality?
The fit is great! The fabric is comfortable and breathable and the front pouch gives your boys the room they need to lay out happily. The quality is also great. The materials are sturdy and the construction is durable even though they have a very delicate look.
Is the price right?
Right now all Tribes Slim Side Briefs are on sale! The Abstract Mesh comes at $11.95 (was $37.95), and the Burn Out at $17.50 (was $43.95). These are high end designer styles and this is a great price. They will be at these prices until the stock is gone and the new ones come in. So get them while you can. The red and black Devore are also on sale.
Best thing about it?
The high style. Tribe is definitely taking men's underwear fashion to places other brands haven't. The sleek, sexy classiness of their designs showcases a side of men that is reminiscent of the glamor of the ageless gentlemen. A manly man in the sense of dignity, boldness and character. Underwear with a deeper masculine statement.
Overall grade
★ ★ ★ ☆ ☆

Tribe scores three stars with its classic designs for the Slim Side Brief. Even though the briefs may not do well as everyday underwear nor work in any occasion the original look and style Tribe has created with it's debonair declaration of manliness deserves the stars! Thank you Tribe for allowing men to show off the gentlemanly side of their personality in a suave and sexy manner.

Buy it here
www.tribeunderwear.com
GD Star Rating
loading...
By Valdamar
It's almost summer in the northern hemisphere and it's time to start looking at swim wear! First up is an amazing swim short from TRIBE underwear and swimwear.
Tribe's products are 100% designed and made in Australia and have a very high quality to them that you will notice immediately. They pride themselves on men's fashion that is 'funky, sexy and fun' and I believe they have succeeded in that mission.
They have a great selection of swimwear to choose from and we here at the Guys Underwear Blog are going to show you three, and first along the line is the classic Swim Short, check back soon for the other two.
The swim short from Tribe comes in an assortment of patterns and colors some even in themes. When I selected a pair I went for a very characteristic black, white and cobalt color blocked short, which has a square cut profile.
The main color being black trimmed at the top in cobalt with a wide side highlighting strip of white, a similar design comes in navy.
The bottom stitching around the leg is done in white and contrasts the black nicely. I love this look! It's fairly simple and elegant, in a manly way, yet it's bold colors pop out and bring your attention to the short and obviously the body with in the shorts.
The quality is great as well, these shorts are made to be worn. And what I mean by that is I have purchased swimwear that was made to show off but not to actively wear in the water and if you had planned on actually swimming, surfing or playing volleyball in the sand? Forget about it!
But the Tribe short will meet any water activity you throw at it. The construction is hardy with durable stitching, the fabric is not flimsy or thin but robust, yet still stretchy enough to form to your body for a sexy look.
The side's white panels have a double layer of fabric as does the pouch for a little modesty and support in the water, where as the back and front sides have a single layer for hugging your silhouette securely.
The material around the waist covers an elastic band that keeps the short in place while giving enough that it's comfortable and soft, and there also is a drawstring for extra securing. This swim short is perfect! At least in my opinion, I love black square cuts and the bold trim.
I was ecstatic when the swim short arrived from Tribe. It's funny I told a guy at Tribe I was almost more happy to get the sweet box that the underwear and swimwear came in, it's like a little black ring case but containing budgie smuggling goodies!
Of course the real joy came from the clothes. Again I love this short, I wore it the very next time I went to swim and it was terrific. The short stayed in place, no riding nor binding, and gave me support with out being overly constrictive like competitive swimwear nor too loose like some feeble just for looks swim wear.
The pouch is just right for recreational swimming, lounging, beach play and water fun. I also wore the short to my Life Guarding training class and even though I did have a pair of board shorts over them I was happy just thinking about the fact that they were on.
So they lived up to all expectations I have of swim wear. I washed the suit in my machine which I know all swimwear makers tell you not to do, so I don't recommend it, and air dried it as suggested and it came through looking bright as new. And I know one of the pools I wore it to has really high chlorine levels all the time but the short showed no signs of fading nor wear.
Again, I love this suit, thank you TRIBE!
What
Verdict
Style and look?
The style is that of any European classic designer. It has a nice square cut form riding perfectly in place from your hips to upper thighs. And the bold, yet timeless, coloring and look gives you a masculine definition that will definitely get attention.
Suitable for?
Pools, beaches, parks, saunas, lakes… And so on. Any water activity. This beautiful suit was made to be worn and used while maintaining it's designer appeal. Don't be afraid to wear it and get some use out of it.
Fit and quality?
The fit is good, it's not cut too small nor is it too large but the sizing fits snugly and comfortably. The quality is top notch. This is a suit that is made with pride and is going to last a long time.
Is the price right?
The Swim Short comes from Tribe at $62.95 AUS (about $65 USD) which is a little pricey. However I have to say it's marvelous quality makes it a suit that will last a long time even with hard wear. It is worth the high price. It's a good investment in a suit that will get you attention for years to come.
Best thing about it?
It looks amazing, has a great style and statement to it, it's high quality makes it very wearable in even the harshest beach or water environments and it's funky, sexy and fun!
Overall grade

★ ★ ★ ★ ★

Tribe has accomplished a rarity here with the Black, White and Cobalt Color Blocked Swim Short earning a perfect five stars! I couldn't find or think of anything I would change or make better about it. It looks hot and handles the wear – it accomplishes everything you need a suit to do. Although I am not going to lie, the only issue may be the price but you get what you pay for and this suit is worth that price tag. Thank you again Tribe and congratulations on your Five Stars, you earned them!

Buy it here
www.tribeunderwear.com

GD Star Rating
loading...
Tribe caught my eye over the summer – maybe you remember my review of the Short Boxer style?
Well, I like that one, especially for its modal/spandex fabric composition. Modal is my favorite underwear fabric of 2010, no question.
Anyway, for those of you guys who are more into briefs, you could consider the Tribe's Trunk Brief as an alternative to the Short Boxer.
Specifically, I've been wearing the Cobblestone variant of the Tribe Trunk Brief. And without giving away too much, it's safe to say that I liked this one as well :)
Feature
Verdict
Style and look
As practically all modern men's underwear, the Tribe Trunk Brief is a low rise cut. But looks can be deceiving and with the sides measuring more than 6 inches (including the narrow elastic waistband), this style actually has the appearance of a full cut brief. This combination, as well as the defining back center seam, is an excellent way to sex up the classic brief.
Suitable for?
The Trunk Brief is mostly made from 94 % Polyester / 6 % Elastane fabric blend. The inside of the pouch, however, is lined in 100 % Modal. Overall, this means that the brief is quite breathable and suitable for all purposes, including sports activities. The cut and print both make for a sexy look, so you could easily wear this for nights out – and in :)
Fit and quality?
A nice fit due to the excellent stretch capabilities of the Polyester / Elastane blend. I wore a size M for a size 32/33 inch waist. No need to size up or down. Be aware, though, that the backside of the brief ends just below the buttocks. When first wearing the brief you may fear that the backside will ride up and expose your buttocks. I didn't find this to be much of an issue, though.
Is the price right?
The Tribe Trunk Brief is priced at a premium, US $41 (AU $41). This is a hefty price tag. But hey, sometimes you just have to pay the big bucks if you want to stand out.
Best thing about it?
The modern low rise style combined with the look of a classic full cut brief is a winner. Brief fans will feel right at home in the Tribe Trunk Brief.
Overall grade
★ ★ ★ ★ ☆

Look, production quality, and fit – can't find much wrong with this nice brief by Tribe. Now, all we need is to get the American dollar back in shape so that Australian underwear can become a little cheaper :)

Buy it here
www.tribeunderwear.com.au
By the way, my friends over at Underwear News Briefs loved the Tribe Trunk Brief, too. Read their review.
GD Star Rating
loading...