Archive for the 'Croota' Category
Croota underwear has just released two final underwear ranges for the first half of 2014 before it gets ready to release its brand new line of t-shirts. The "Oasis" and "Great Sandy Desert" ranges bring a new cut to men's trunks! Light and form-fitting, these 'second skin' ranges of underwear are made from 95% polyester and 5% elastane.
"Great Sandy Desert" was inspired by the Australian Outback's great desert landscape. The range features a unique feel and two very distinctive gradient colors called Day Time (Red) and Night Time (Blue). The material is so light it's as if you're naked!
The "Oasis" range was inspired by the cool and refreshing feel of an oasis in the middle of the hot, dry Australian desert. This range combines the Croota logo with tribal designs that come in two color variations: Salmon Pink and Bijou Blue.
Both ranges of underwear offer a stretchable fit and are available in two size options (S-M and L-XL). They retail for $22.90 – $22.95.
For more information about Croota, or to make a purchase online, please visit www.croota.com.
Enjoy the pics.
GD Star Rating
loading...
By Eric
I've been a briefs guy for as long as I can remember, so I was a little skeptical about trying the Croota hipster boxer brief.  These distinctive boxer briefs, however, merit an exception to my policy.  Croota, an Australian line, produces a substantial number of choices, all of which feature bold styling and branding.  I tried the Neon 90s Hipster.  The one detail that made it really stand out to me is the texturing on the back of the underwear.
The boxer brief is made of very smooth fabric, but there are three textured lines on the back, running from the butt to the thighs, which I just felt compelled to touch.  I am sure that if someone else were wearing this boxer brief, I'd feel compelled to run my hands over the smooth fabric and textured lines, too.  Simply put, this boxer brief is meant to be touched.
The Neo 90s boxer brief is made of a smooth 50% viscose, 45% polyester, 5% elastane blend.  The styling is bold with a big CROOTA logo on the thick, yellow waistband.  (The light gray version of the boxer brief features a light blue waistband.)  In addition to the textured lines, there is a graphic and some text on the back, which is also textured, which I thought was gratuitous.
The front pouch is contoured and comfortable.  Personally, I prefer an understated look – especially with respect to the waistband – but for the most part, the boxer brief isn't so bold that I feel awkward wearing it.  I think that the biggest testament to the boxer brief is that I washed it at the end of the day so I could wear it again.
| What | Verdict |
| --- | --- |
| Style and look? | Low cut boxer brief featuring bold styling and texture details. |
| Suitable for? | The boxer brief would be comfortable in most environments – but it is definitely a good choice for a date night. |
| Fit and quality? | Low-cut with a comfortable pouch; good quality viscose/polyester/elastane blend |
| Is the price right? | $22.90 which seems reasonable given the fabric and styling. |
| Best thing about it? | These feel great to touch. |
| Overall grade | ★★★★✩ |
| Buy it here | www.croota.com |
GD Star Rating
loading...
Ready for the new year? Let Croota (www.croota.com) help build the foundation for your new 2014 wardrobe with its six new ranges of men's underwear.
If you want to skip past the "boring" details and go straight for the pics, feel free to scroll down.
With the "90s Neon Hipster" lo-rise brief ($22.90) and the "Neon Brief" ($22.50) ranges, you can add some fluorescent 90s color and comfort with the 50% viscose, 45% polyester and 5% elastane combination that provides for breathable all-day wear. The luxurious satin silver waistband only adds to the comfort. Both ranges are available in blue gray and light gray.
The sharp lines of the "Night Angles" range ($22.90) add a visual aspect to your manhood that should never be overlooked. Not to mention how great you'll look from behind, as well. The Croota Comfort Waistband also adds style to the dimensions of the boxer brief with an 8-bit inspired graphic. The range is made from 95% cotton and 5% spandex, and is available in chocolate with a blue check pattern and in midnight blue with a red check pattern.
Another two ranges released for the 2014 collection include the "Angular Pattern Hipster" ($22.90) and the "Angular Pattern Brief" ($22.50). With these ranges, turning back the clock never looked so good. Borrowing from the classic Houndstooth pattern, and adding a splash of 8-bit graphics, you are presented with one fascinating pair of underwear. The detail in Croota's Comfort Waistband continues in this range with the inspiration found from early computer graphics so popular in early video games. The ranges are made from 95% cotton and 5% spandex, and are available in both sky and royal blues.
The final range released for 2014 is the "Garden Grove" boxer. When you're having a great day, you tend to see the beauty in the smallest details. Spend enough time driving along any Southern California freeway, and you'll see how shrubs are used to disguise highway sound barriers. This print is inspired by the simple beauty found along daily drives around California. Croota's handwritten name is disguised as leaves, and the Croota four Color Comfort band caps it off. Add a little foliage to your wardrobe – no water required. The "Garden Grove" boxer is made from 95% cotton and 5% cotton, is available in navy blue and nutmeg, and retails for $23.90.
There you go! Now enjoy the pics.
GD Star Rating
loading...
Independent film director Rob Williams is as prolific a filmmaker as the Croota brand of men's underwear is about releasing new ranges! And in his highly anticipated seventh film, "Out To Kill," which recently wrapped filming in Tampa, FL, he prominently featured Croota underwear and swim wear on some Adonis-like model/actors.
And we've got the behind the scenes pics  – see below!
The trio of characters that don Croota swim wear in this poolside scene are Lee Williams, Christopher John Cutillo and Nicolas Burgos.
"Out To Kill" is a gay murder mystery about a private investigator who wrangles himself into investigating the murder of one of his hot new neighbors when he moves into a beautiful Tampa loft complex. More information on the film and other Guest House Films productions can be found at www.guesthousefilms.com.
Croota's featured low-cut swim wear includes its "Surfers Paradise" range in both dark purple and beige, and the hipster-cut "Austar," which is available in khaki and white. Each range of swim trunks is made of 85% nylon and 15% spandex, which combine for a UPF 50, fade-resistant fabric. Each range retails for $24.50 USD, and all are available at www.croota.com.
GD Star Rating
loading...
Stand on top of the world everyday with your mountain-inspired underwear from Croota Australia. Influenced by the day and night ambiance of the Australian Snowy Mountains, Croota has recently released its "Snowy Mountain" range of lo-rise trunks.
For guys who enjoy a delicate design, a white pair was developed to symbolize the daytime atop the Australian Alps with a blue snowflake pattern and deep blue piping complete with a blue and silver waistband. And for guys who like high-contrast patterns, a blue indigo pair was developed to represent the nighttime elements of a winter snowstorm. This pair offers a white snowflake pattern with red piping along with a red and silver waistband.
The hipster style "Snowy Mountain" range features a square cut with a lo-rise fit, and the light yet durable fabric serves as your second skin!
Both pairs are made with 95% cotton and 5% spandex and retail at $19.90. For more information about Croota Underwear, or to make a purchase, please visit www.croota.com.
Enjoy the pics.
GD Star Rating
loading...
Thongs fans everywhere, this one's for you.
Croota is actually becoming a real force within the men's thong category, selling out time and time again. This is said to be the reason why Croota Underwear (www.croota.com) is launching two new pairs, "45 Degree" and "Croota Endless."
The initial promo pics show some classic, sexy designs typical of the Australian brand.
"45 Degree" thongs ($17.90) come in two color variations, Mocha Brown and Copen Blue. The dramatic linear design details complement any physique and emphasize the pouch area. The prints are also available in the "45 Degree" boxer brief range ($19.50) that was simultaneously launched. Each range is made of 95% cotton and 5% spandex.
"Croota Endless" thongs ($17.90) feature endless comfort in a scrambled mix of letters that spell the brand name. Inspiration for the design came after Croota's head designer joined a friend to a spelling bee and soon had dreams of puffy floating letters suspended in a sea of powder white and ensign blue, the two color choices for the range. The same color choices and patterns are available in the "Croota Endless" boxer short range ($21.90).
For more information about Croota Underwear or to make a purchase, please visit www.croota.com.
Enjoy the pics.
GD Star Rating
loading...
If you're a regular follower of GUB, you will know that we are not tremendous fans of the old-fashioned boxer shorts. To sum up our views on this particular style of underwear, we typically find it too baggy, unflattering, and unsupportive. There – we've said it. We are briefs/trunks/boxer briefs guys at the heart.
However, once in a while an underwear brand manages to come up with a – dare we say it – interestingly new spin on the old boxer short. And so was the case when we came across Croota's new range of boxer shorts called "Traveller".
Now, you might claim that Croota aren't exactly reinventing the boxer short with the Traveller range, but the print designs are fresh and the bold, attention-grabbing waistbands are a breath of fresh air. Combined with Croota's traditional low-rise cut and the noticably longer, slimmer leg of this style, the Traveller boxer provides just a bit more definition and flexibility.
So there you have it – a pair of boxer shorts that we don't hate. That's an achievement in itself :)
Croota's "Traveller" boxers retail for $21.90 USD, and are available at www.croota.com.
Enjoy the pics, guys.

GD Star Rating
loading...
It's been a couple of years since we last took a closer a look at one Australia's many high-quality men's underwear brands, Croota.
Since then, they've refitted their website and now have their eyes set on conquering the American underwear market.
Their weapon of choice comes in the shape of an all new "Waisted" range that offers guys a lighter, comfortable fitting boxer brief that hugs the body but gives enough room for it to breathe.
We like the look of this pair of low-rise boxer briefs which come in two versatile colors, blue indigo featuring a hot pink and silver waistband, and gray which features a maroon and silver waistband. A two-button front allows more give in the pouch and thigh. To add more flavor to this boxer, Croota added an 8×3 patch on the front left side, and additional vertical logo on the right and a silver Croota slogan on the rear directly below the brand label. The ranges retails for $21.90 USD over at www.croota.com.
Fun fact: The name of Croota's "Waisted" line came about as many manufacturers refused to assist with such a detailed waistband. The combination of satin and colored fabric to provide the intricate design indeed is a nice little luxury detail..
In general, Croota introduces new ranges every two to three months. Prices range from $18 – $22 USD, with special promotions on best sellers of the month. Croota is fully stocked in the U.S., and all American orders are dispatched from California. Free nationwide (1-5 business day) delivery is offered to U.S. customers.
Welcome back, Croota.
GD Star Rating
loading...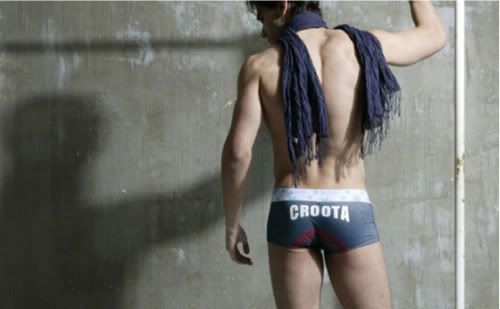 Men's underwear from Croota – www.croota.us
Click to to see this men's underwear picture in full size
GD Star Rating
loading...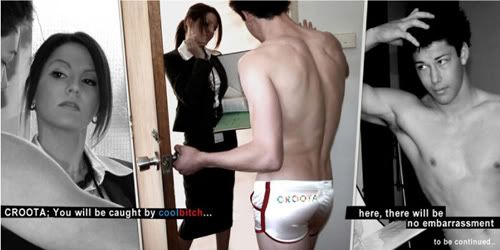 Men's underwear from Croota – www.croota.us
Click to to see this men's underwear picture in full size
GD Star Rating
loading...