Archive for the 'Croota' Category
Independent film director Rob Williams is as prolific a filmmaker as the Croota brand of men's underwear is about releasing new ranges! And in his highly anticipated seventh film, "Out To Kill," which recently wrapped filming in Tampa, FL, he prominently featured Croota underwear and swim wear on some Adonis-like model/actors.
And we've got the behind the scenes pics  – see below!
The trio of characters that don Croota swim wear in this poolside scene are Lee Williams, Christopher John Cutillo and Nicolas Burgos.
"Out To Kill" is a gay murder mystery about a private investigator who wrangles himself into investigating the murder of one of his hot new neighbors when he moves into a beautiful Tampa loft complex. More information on the film and other Guest House Films productions can be found at www.guesthousefilms.com.
Croota's featured low-cut swim wear includes its "Surfers Paradise" range in both dark purple and beige, and the hipster-cut "Austar," which is available in khaki and white. Each range of swim trunks is made of 85% nylon and 15% spandex, which combine for a UPF 50, fade-resistant fabric. Each range retails for $24.50 USD, and all are available at www.croota.com.
GD Star Rating
loading...
Stand on top of the world everyday with your mountain-inspired underwear from Croota Australia. Influenced by the day and night ambiance of the Australian Snowy Mountains, Croota has recently released its "Snowy Mountain" range of lo-rise trunks.
For guys who enjoy a delicate design, a white pair was developed to symbolize the daytime atop the Australian Alps with a blue snowflake pattern and deep blue piping complete with a blue and silver waistband. And for guys who like high-contrast patterns, a blue indigo pair was developed to represent the nighttime elements of a winter snowstorm. This pair offers a white snowflake pattern with red piping along with a red and silver waistband.
The hipster style "Snowy Mountain" range features a square cut with a lo-rise fit, and the light yet durable fabric serves as your second skin!
Both pairs are made with 95% cotton and 5% spandex and retail at $19.90. For more information about Croota Underwear, or to make a purchase, please visit www.croota.com.
Enjoy the pics.
GD Star Rating
loading...
Thongs fans everywhere, this one's for you.
Croota is actually becoming a real force within the men's thong category, selling out time and time again. This is said to be the reason why Croota Underwear (www.croota.com) is launching two new pairs, "45 Degree" and "Croota Endless."
The initial promo pics show some classic, sexy designs typical of the Australian brand.
"45 Degree" thongs ($17.90) come in two color variations, Mocha Brown and Copen Blue. The dramatic linear design details complement any physique and emphasize the pouch area. The prints are also available in the "45 Degree" boxer brief range ($19.50) that was simultaneously launched. Each range is made of 95% cotton and 5% spandex.
"Croota Endless" thongs ($17.90) feature endless comfort in a scrambled mix of letters that spell the brand name. Inspiration for the design came after Croota's head designer joined a friend to a spelling bee and soon had dreams of puffy floating letters suspended in a sea of powder white and ensign blue, the two color choices for the range. The same color choices and patterns are available in the "Croota Endless" boxer short range ($21.90).
For more information about Croota Underwear or to make a purchase, please visit www.croota.com.
Enjoy the pics.
GD Star Rating
loading...
If you're a regular follower of GUB, you will know that we are not tremendous fans of the old-fashioned boxer shorts. To sum up our views on this particular style of underwear, we typically find it too baggy, unflattering, and unsupportive. There – we've said it. We are briefs/trunks/boxer briefs guys at the heart.
However, once in a while an underwear brand manages to come up with a – dare we say it – interestingly new spin on the old boxer short. And so was the case when we came across Croota's new range of boxer shorts called "Traveller".
Now, you might claim that Croota aren't exactly reinventing the boxer short with the Traveller range, but the print designs are fresh and the bold, attention-grabbing waistbands are a breath of fresh air. Combined with Croota's traditional low-rise cut and the noticably longer, slimmer leg of this style, the Traveller boxer provides just a bit more definition and flexibility.
So there you have it – a pair of boxer shorts that we don't hate. That's an achievement in itself :)
Croota's "Traveller" boxers retail for $21.90 USD, and are available at www.croota.com.
Enjoy the pics, guys.

GD Star Rating
loading...
The independent American man can now celebrate Independence Day in style. Just in time for the celebration of American freedom, Croota Underwear's 'High Ray' range of hipster trunks come in red and blue variations!
The new 'High Ray' range of lo-rise hipster trunks offer guys a patriotic foundation for their July 4th weekend celebrations. Coming in either beet red or blue indigo, each pair has a unique silver logo and waistband, and offer a simple yet refined design with high and sharp contrast embroidery. "High Ray" is made of 95% cotton and 5% elastane, and retails for $19.90 USD.
Also, the brand is having a sale right now! There's a 20% off sale with discount code CRT777 that ends on July 16th, and 15% off sale with code CRT15B7 that ends on July 31st, so go ahead and take advantage of these codes.
Go to www.croota.com to shop – and enjoy the pics.
GD Star Rating
loading...
It's been a couple of years since we last took a closer a look at one Australia's many high-quality men's underwear brands, Croota.
Since then, they've refitted their website and now have their eyes set on conquering the American underwear market.
Their weapon of choice comes in the shape of an all new "Waisted" range that offers guys a lighter, comfortable fitting boxer brief that hugs the body but gives enough room for it to breathe.
We like the look of this pair of low-rise boxer briefs which come in two versatile colors, blue indigo featuring a hot pink and silver waistband, and gray which features a maroon and silver waistband. A two-button front allows more give in the pouch and thigh. To add more flavor to this boxer, Croota added an 8×3 patch on the front left side, and additional vertical logo on the right and a silver Croota slogan on the rear directly below the brand label. The ranges retails for $21.90 USD over at www.croota.com.
Fun fact: The name of Croota's "Waisted" line came about as many manufacturers refused to assist with such a detailed waistband. The combination of satin and colored fabric to provide the intricate design indeed is a nice little luxury detail..
In general, Croota introduces new ranges every two to three months. Prices range from $18 – $22 USD, with special promotions on best sellers of the month. Croota is fully stocked in the U.S., and all American orders are dispatched from California. Free nationwide (1-5 business day) delivery is offered to U.S. customers.
Welcome back, Croota.
GD Star Rating
loading...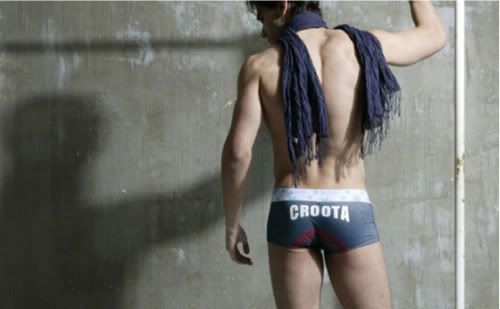 Men's underwear from Croota – www.croota.us
Click to to see this men's underwear picture in full size
GD Star Rating
loading...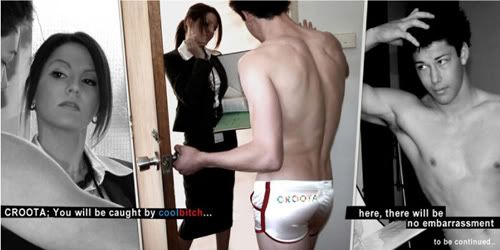 Men's underwear from Croota – www.croota.us
Click to to see this men's underwear picture in full size
GD Star Rating
loading...
By Valdamar
Croota's underwear comes with an expiration date "BEST BEFORE: marriage". Sorry married guys I guess you'll have to find a different pair.
Of course this philosophy is set to show that these undergarments have a fun unbridled and uncommitted attitude which really sets free that exuberant single man even in married guys.
Croota has made it their aim to make underwear fun and to help men get away from the boring old undies of the past. We have looked at two examples up close recently and now our third is probably the most unique; the Croota Cats Light Trunk.
This trunk looks like a very small pair of running shorts and not much like underwear at all, it even has pockets. I love underwear with pockets.
The trunk fits like a small pair of shorts, a little loose yet there is some elastane in the polyester to give it a snug quality as well.
The trunk is made with a fairly flat look in that there isn't a pouch nor any dimension to the back it's just two flat pieces of material sewn together. Don't get me wrong there is nothing "flat" as in boring about this trunk.
The flat quality allows your body to press out and shape the underwear. The black is trimmed with gold and the white is trimmed in red making the trunk really pop.
The area in between the legs connecting front and back is made with a sheer mesh stretch material really allowing your lower region to breathe. And the elastic waist band is super soft and almost hidden behind the outer material. The band sticks up just a millimeter or two giving the look that you are wearing a pair of white undies beneath these shorts.
The brand "Croota" is written across the upper left back in a colorful mosaic type style reminiscent of 90's pop art. This is a very unique and fun pair of underwear.
I was infatuated with this hipster from the time I saw it on Croota's website. When it arrived I was pretty excited to try it out. At first I was a little disappointed by its flat front since I am a big fan of support and pouches. But honestly after wearing it I never noticed much of a difference from underwear with a pouched front.
I wore the hipster for a long full day and never felt like I had to adjust myself or that I was unsupported down there – it was really very comfortable. Putting on the underwear it did look like I was going to wear a very skimpy pair of running shorts and almost was like I had shorts on under my pants, although it didn't feel that way once I was dressed.
And even though I never used the pockets I love the fact that they're there just in case and it makes the shorts perfect for an adventurous day out when I feel brave enough to show them off.
The mesh part in between the legs is not only cooling to your groin area it's also pretty fun. It shows just a hint of the base of your butt crack and the bottom of your scrotum as it act's like a little hidden window to what's inside.
After washing the hipster, which it handled well, I wore them again and once more they were a lot of fun to have on! They are a great pair of underwear for any man and an amazing pair of shorts for guys who dare to flaunt what they have going on!
Way to go Croota!
What
Verdict
Style and look?
The style and look are very original and very sexy in an athletic manly way which is just yummy. The material is 94% polyester and 6% elastane so it has a nice shimmer drawing attention to your form while being flexible enough to mold to your body. It's unique and really gets attention.
Suitable for?
Casual wear, lounging around the house and maybe even at the park. It's comfortable enough to wear all day anywhere. It is great for hot summer days in the outdoors and underwear parties, since it has a pocket to hold your stuff. Great overall for any occasion.
Fit and quality?
The quality is great, after several washes and wears it still looks new and is ready to go again. The fit is also good, it's not too tight nor is it too lose. And even though it is pouchless you have the room and support you need from your undies.
Is the price right?
You can buy it from Croota for $19.50 and free shipping. That is a great deal, I love free shipping it's hard enough for my head to add the regular prices together much less thinking about shipping prices to add in. I would honestly have expected this pair to go for higher so it is a terrific deal.
Best thing about it?
The look. I love the athletic angle it conveys and the fact that it can double as regular shorts. Well not quite "regular" but passable as outer wear. I love original underwear concepts and Croota did it with this one.
Overall grade
★ ★ ★ ★ ☆

Croota scores a four star rating with the Cats Light Hipster! It is definitely a pair that you will want to ad to your collection and show off to your friends, loves and fellow underwear lovers. Thank you for the Hipster Croota!

Buy it here
www.croota.us
GD Star Rating
loading...