Archive for the 'Armani' Category
Men's underwear from Emporio Armani
Click to to see this men's underwear picture in full size
GD Star Rating
loading...
By Eric
Do you remember those Folgers Coffee commercials where they set up a hidden camera in a high-end restaurant and recorded diners' reactions when they were told that the coffee they were enjoying was not the premium coffee they were expecting, but instead the discount brand, Folgers? (http://www.youtube.com/watch?v=K_Gtb1kElRk). In other words, the diners were paying more for supposedly gourmet coffee that tasted the same as the instant coffee they could buy in the supermarket at a much lower price.
I had a Folgers experience in connection with trying two styles of briefs from Emporio Armani's collection — the Jersey Mesh Stretch Cotton Brief (at $69, the gourmet coffee) and the Stretch Cotton Hip Brief (at $21, the Folgers coffee). Like the diners in the Folgers Coffee commercial, if someone switched my $69 Jersey Mesh Stretch Cotton Brief with my $21 Stretch Cotton Hip Brief, I'm not sure that I'd be able to tell the difference.
The two styles share many features in common. What I liked best about them was that they felt more mature than a lot of the other low-cut briefs. Both are made of good quality, smooth cotton blends: the Jersey Mesh Stretch Cotton Brief is made of 62% cotton, 26% nylon and 9% elastane; the Stretch Cotton Hip Brief is made of 56% cotton, 39% nylon and 5% elastane. Both are designed by Emporio Armani in Italy; both feature the Emporio Armani logo prominently on the waistband; both have flattering full-back coverage.
According to the descriptions online, both have contoured front pouches although the Jersey Mesh Stretch Cotton Brief has a contoured pouch with a "center support dart" while the Stretch Cotton Hip Brief has a "center support seam." I'm not quite sure what is the difference, but the pouch on the Jersey Mesh Stretch Cotton Brief felt a little awkward and I needed to adjust a couple of times during the day.
The Jersey Mesh Stretch Cotton Brief features two distinct details: (1) two mesh panels on both sides of the front pouch that look sort of cool; and (2) an Emporio Armani waistband logo with a slightly rubberized texture. Although the side measurements are noted to be a half inch shorter on the Stretch Cotton Hip Brief (2-1/2″), I didn't notice a difference until I read the descriptions on the internationaljock.com website.
On the whole, my impression of the Stretch Cotton Hip Brief was positive. It is mature, masculine and comfortable. While it is not my favorite style in my underwear drawer, I felt good wearing them to work and hanging out with friends, and I'd definitely wear them again. With respect to the Jersey Mesh Stretch Cotton Brief, the $69 price was the most remarkable thing about it. Although it was the most expensive brief that I've ever worn, I could not identify any unique feature that would justify such a high price and I didn't enjoy wearing the Jersey Mesh Stretch Cotton Brief any more than the Stretch Cotton Hip Brief. For $69, I'd suggest buying three Stretch Cotton Hip Briefs for $63 and spending the remaining $6 on a big jar of Folgers Coffee.
| What | Stretch Cotton Hip Brief | Jersey Mesh Stretch Brief |
| --- | --- | --- |
| Style and look? | Sophisticated and masculine, low-cut brief. | Same. |
| Suitable for? | Every day and for guys that enjoy wearing low-cut briefs with a more polished, mature look. | Same. |
| Fit and quality? | Fairly low-cut with full coverage in the back; good-quality cotton/synthetic blend. | Same, although the front pouch is a little awkward. |
| Is the price right? | $21 seems fair for a handsome brief produced by a high-end brand. | Nothing whatsoever justifies the $69 price. |
| Best thing about it? | Good quality, low-cut brief with a sophisticated, mature twist. | Same. |
| Overall grade | ★★★☆☆ | ★★☆☆☆ |
| Buy it here | www.internationaljock.com | www.internationaljock.com |
Stretch Cotton Hip Brief
Jersey Mesh Stretch Brief
GD Star Rating
loading...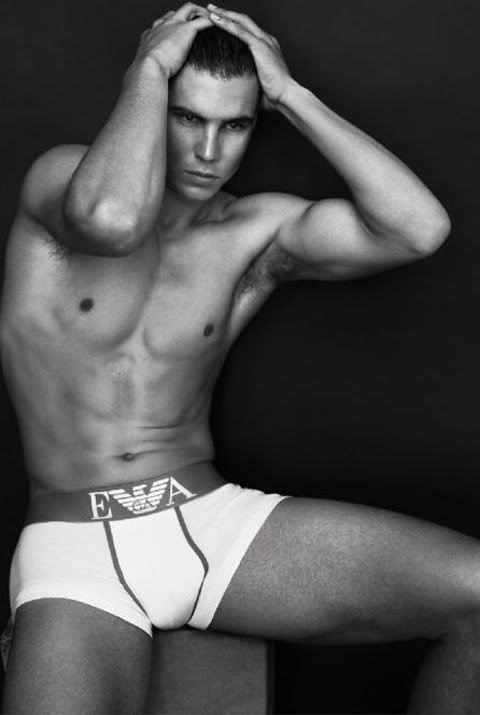 Men's underwear from Armani – www.armani.com
Click to to see this men's underwear picture in full size
GD Star Rating
loading...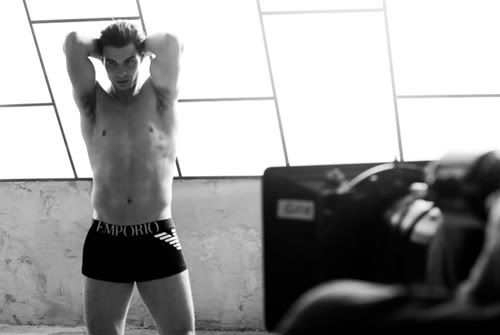 Men's underwear from Armani – www.armani.com
Click to to see this men's underwear picture in full size
GD Star Rating
loading...
So, the hearts of underwear fans from around the world skipped a beat a couple of weeks ago as David Beckham finally announced his plans to launch his very own men's underwear brand.
Not that it came as too much of a surprise, though, it's been a recurring subject on the rumor mill for ages.
Just as you guys, we are extremely excited about what Beckham's underwear collection will entail – will it just be briefs, trunks, and boxers, or will he venture into more exotic cuts as well? And will the undies cost?
We'll just have to wait and see.
We are absolutely positive that Beckham will be massively successful with his new business adventure. He could easily become the Björn Borg of this decade.
We hear that the Beckham undies will be available in stores this fall and that – naturally – the soccer star will once again act as chief underwear model.
So in celebration and anticipation of Beckham's return to male underwear modeling we've gathered some of his best work so far for Emporio Armani. If it's any indication of what's to come, we're all in for a real treat.
GD Star Rating
loading...
Today we bring you more exquisite underwear sightings from the Singapore 2011 Men's Fashion Week.
Brand of the day is Emporio Armani, which is currently grabbing attention with their much hyped (yet, slightly disappointing) Rafael Nadal ads.
We admit it. We miss the days of Beckham and Ronaldo.
Anyway, even though Armani's underwear ads are a bit on the dull side these days, the same thing certainly can't be said about their recent men's underwear runway fashion show.
And there can be little doubt that Armani makes some of the finest, high-end underwear we've ever come across – regardless of whichever hunky sports star currently endorses them.
Feast your eyes on some of the most classy briefs and boxer briefs you'll see this season. See pics below the video.
GD Star Rating
loading...
The Singapore 2011 Men's Fashion Week was the place to be this past week as some of the world's most powerful and trend-setting men's underwear brands took to the runways to show off their latest creations.
So if you're a die-hard fan of brands such as Skinxwear, 2(x)ist, Emporio Armani, Alexander McQueen, Punto Blanco, DKNY, or Renoma you should stay tuned this week on Guys' Underwear Blog.
Today and the next six days we'll be bringing you all the best photos and video footage from each of these runway shows.
Just sit back and be inspired.
First up is Skinxwear, a brand we touched base with a few times in 2010.
It's funny, this brand seemed to had disappeared for a while but now they certainly are back with a strong,  new men's underwear collection. One which is obviously influenced by a Scottish kilt fetish theme.
Thanks to SuperAdrianMe.com for sharing these and many more pics from the Singapore Men's Fashion Week with the rest of us!
See the runway pics below the video!
GD Star Rating
loading...
You know, I had almost forgotten the fact Rafael Nadal was new face body of Armani underwear.
Are they not bringing out the major billboards for the tennis super star turned pro underwear model or what? To the best of my knowledge, only a couple of Rafael/Armani ads have been published so far.
Maybe they're holding on to them until this summer's grand slams to ensure maximum exposure?
Anyway, a few weeks ago a bunch of behind the scenes pics surfaced on the web featuring Rafa hard at work posing in those classic Armani undies.
We guess they'll have to do for now, then.
FYI, Armani briefs are anywhere between USD $36 and a whopping $54 a pop. Get your Armani Underwear at the Armani web shop.
Luckily, the pics below are all for free.
GD Star Rating
loading...
By Braxton
Rafa Nadal Shows Us His Undies!
Following the foot steps of David Beckham and Christiano Ronaldo the world's number one tennis player has become the new face, or body, of Giorgio. And we get to see him pose in a hot pair of underwear. The 24 year old is the first tennis player after two footballers to dawn the underwear for Armani fans worldwide. Maybe the new underwear will fix his constant wedgie problem.
Women Only?
A library in Illinois was featuring a lecture entitled "Unmentionables: The Rise and Fall of Ladies' Underwear". Originally this was a women only event; however several men protested the discrimination so it was opened to both genders. Two men showed up! I bet we could have packed the room for a men's underwear lecture.
The Underwear Battle
How many pairs of underwear can you put on in 30 seconds? There has been a battle for this record. A year ago Todd DeFazio of Pittsburg radio station Star 100.7 held the record with 7 pair. A few weeks latter a fellow DJ, Sean Kelly, at the station beat the record with 9 pair. DeFazio then defended his record by besting Kelly with 12 pair. The new record is held by a woman, Olivia Miller, with 15 pair in 30 seconds. Who keeps these records? The Universal Record Database. Can you beat it?
Running Naked Man
By now the pictures gone viral of Chen Weiwei have probably already been seen by everyone. But let's give them another glance.
Weiwei was waiting 4 hours in line to buy tickets for his family and himself to travel to their hometown in Henan China. However people were unfairly being allowed to cut in line which ultimately cost him the few remaining tickets. In an angry protest against the inequalities and harsh realities of Chinas train system, Weiwei went to the train station managers office and stripped to his underwear and they were nice underwear, too.
And fortunately for all of us he was captured by a press photographer. He has since been dubbed the "Running Naked Man".
Heated Underwear
Julia Aiken, a former professional snowboarder, has started her own business, Toast Heated Clothes, a line of heated underwear. The long underwear is designed with a series of pockets where you can insert hand warmers, three in the shirt and one in the pants. The idea is to heat the core and thus your whole body will be warm. I hope she designs a heated jock soon.
Gleeful Underwear
The show Glee is returning following the Super Bowl and Matthew Morrison has revealed a little secret. Apparently one of the cast members will be singing for the very first time so to calm his nerves the students strip to their underwear. Being that these are supposed to be high school kids I don't know if I should be excited. I may have to give Glee another try. Maybe this time I'll make it past 5 minutes.
Happy Australia Day!
January 26th was Australia Day and CockSox is one of the many Australian Underwear brands celebrating their booming business. They released the Carnivore, a leopard print fabric, and the Woodstock, a paisley inspired design. And to celebrate the release they were going for 20% off. American companies remember this for the 4th of July!
The Week in Underwear Crime:
Once again we have criminals running around or sitting around in their underwear. I think underwear can bring out our wild side at times, so wear your undies with caution, men.
Wikileaker Stripped to His Underwear.
Bradley Manning, the alleged Wikileaker, has been placed on suicide watch against the recommendation of the jail's own psychiatrist. What this entails is kind of harsh, he's forced to stay in his cell with no time outside, his glasses were taken away and he has been stripped down to his underwear. I hope he has some a warm comfortable pair. There have also been reports of his having a "rug burn" from a horrible blanket and no pillow to use, as well as no contact with the media.
Car Surfing Underwear Guy
A man in Sacramento, California, apparently went crazy according to witnesses. 40 year old Arthur Derby jumped on top of a passing SUV carrying a family and took off his clothes remaining in just his underwear and tried to open up the vehicles doors. One witness said "he was pissed" as began beating the cars hood and shouting obscenities. I kind of want to car surf in undies myself now, minus the going crazy.
Handcuffed to Pole in Underwear
Being handcuffed to a pole in underwear may be some men's fantasy, however this was no love play. Canadian police found a 24 year old man handcuffed to a telephone pole in his underwear on a cold winter night. He was on his way home when he was hit on the head, thrown in the back of a van, robbed and stripped then left handcuffed to a pole. But the man refuses to neither tell police who did this nor give any motive they may have had. Sounds kind of fishy, he may have more questions to come.
PICTURE OF THE WEEK!
Rafa Nadal in Armani's new 2011 spring collection ad. Armani has been a leader in finding and showcasing underwear models. They hit it big, beyond massive, with Beckham will Nadal fill those briefs? Time will tell but either way we will enjoy the moment.
GD Star Rating
loading...
You KNOW you've been waiting for the Rafael Nadal Armani underwear ads to published.
And they will officially in February – but we've got them now!
Just yesterday the brand new underwear pics featuring the Spanish tennis star surfaced on the web and spread like wildfire.
There's even some behind the scenes photos as well!
And what great timing, as Nadal is having a succesful run at the Australian Open at the moment.
What do you think? Will Rafa be as successful as David Beckham or Christiano Ronaldo?
Get your Armani Underwear at the Armani web shop.
PS. I'm sure more pics will follow over the next few weeks. Rest assured that we will publish them all here on the blog.
GD Star Rating
loading...