Archive for February, 2010
Andrew Christian does some amazing runway fashion shows, and this fashion show video from 2007 features all the men's underwear styles you could ever wish for: Briefs, low-rise briefs, boxer briefs, trunks, bikini briefs, and – yes – even jockstraps.
It's so rare that men's underwear manufacturers dare to put jockstraps up there on the runway along with the mainstream styles, so Andrew Christian gets good marks for having the balls to be different!
The underwear styles on display include a lot mesh fabrics which were quite the hot item back then in 2007.
Andrew Christian men's underwear is a premium brand, and a pair of briefs will usually cost you between $25 and $30, but in this case price and quality go hand in hand. I own a pair of Andrew Christian Show-It briefs, and the fabric and production quality is superb. So if you're looking for fashionable, long-lasting men's underwear, Andrew Christian should be a serious contender.
Enjoy the Andrew Christian fashion show video below :)
Oh, and also check out my other hot Andrew Christian videos.
GD Star Rating
loading...
These last few days I've been doing some monster posts so I thought it could be nice some easily digestible video posts for the weekend :)
If you browse around this blog, you'll see that I love properly produced videos showcasing interesting men's underwear. Aussibum has produced so many great videos for years now, and this one from 2008 is one of my favorites.
Aussiebum briefs in all the colors of the rainbow
Countless Aussiebum briefs are on display in this video, which promotes the Australian underwear powerhouse's Vintage collection.
The Aussibum Vintage styles include only briefs, and as a brief enthusiast I can only applaud this move :) The briefs come in no less than 10 colors, and I wish that I could have them all.
This specific Aussiebum brief cut is a classic low-rise design made from 100 % ripped cotton, which I think gives your underwear a nice rugged feeling.
A pair of Vintage briefs will cost you roughly $17, but remember, Aussibums has free worldwide shipping!
Anyway, as mentioned, the video is kind of voyeur-ish and features briefs, briefs and more briefs, and if you are in a hurry you skip to the 00:46 mark where the fun begins :)
Want more Aussiebum videos? Also check out videos of the Aussiebum LockerBoy and New Classic collections.
Enjoy!
Also, watch the all new Aussibum HUNK video!
GD Star Rating
loading...
This is the second blog post in a series of two featuring the best Sloggi underwear for men.
In the first post I looked at the top 5 men's briefs by Sloggi, so if you missed that one, check it out. Today I will guide you to the top 5 Mens Sloggi boxer briefs.
Sloggi really does great underwear at very affordable prices. A pair of nice quality briefs will typically set you back no more than $15-18.
The (relatively low-rise) boxer briefs are typically priced between $18 and $24, which is also a good bargain for this level of quality men's underwear.
The boxer briefs I have selected are called "hipsters" by Sloggi, and rightfully they should reside in a category between low-rise trunks and normal boxer briefs. But for the sake of simplicity, I will term them boxer briefs in this post. So, here we go :)
Sloggi light short
Sloggi Men Light men's underwear is in interesting choice due to its price (currently on sale for $7,60 at Dead Good Undies) and fabric features. The boxer brief is made from 85 % cotton 54, which is an extremely light sort of cotton, and 15 % elastane.
The style is also available as a brief, and the Sloggi Light collection will feel ultra smooth on your skin, partly due to the fact that it's single layered throughout. This effect is supported by the waistband and leg hems, which seem to disappear under your clothes.
Verdict: This boxer brief looks the best in black and has an almost silky feel to it. Men who enjoy extremely soft and thin-feeling fabrics will love this style.
Sloggi for men madison hip short
The madison hip short definitely looks best in the dark gray version, pictured below. One of the main features of this design is the very distinctive wide elasticated waistband on which the SLOGGI branding is sculpted in pewter grey onto a shimmering silver. This will certainly appeal to many men, as wide waistbands have become quite popular over these last few years.
This Sloggi boxer brief features a pouch design characterized by a double layer of the silky modal fabric (92 % modal, 8 % elastane).
Verdict: The Sloggi madison hip short boxer brief is another great choice for men who are not afraid of trying something different from the usual cotton blend. The wide waistband and the subtle dark gray color design mean that this style is a perfect choice if you want to blend in nicely with the guys at the gym without appearing too boring.
Sloggi for men Gala hipster
The mens Sloggi Gala boxer brief is a cool choice for a night on the town. If you wanna appear stylish and attract attention in the bedroom later in the night, this boxer brief might do the trick. It uses a silky and stretchy black microfibre (92 % polyamide and 9 % elastane) to create a seriously slinky feel and look.
The noticeably gold waistband provides a fun contrast to the body fabric and thankfully it's not been plastered in Sloggi logos which ensures it a clean look. The double layered pouch and the fact that there are no seams across the bum will have you feeling very comfortable, and you can easily wear this boxer brief for an entire evening and night.
Verdict: A different kind of boxer brief for the man who is looking to shake up his underwear drawer with a fun and attention-grabbing mens Sloggi style. These babies typically cost around $24,50 and will have you looking daring and fashionable in any setting.
Sloggi for men business hipster
The Mens Sloggi Business hipster takes the second place in my Sloggi boxer brief countdown, partly due to it's great-looking classic white boxer brief look, and partly due to the great cotton blend fabric (96 % cotton and 4 % elastane). This combination is one that will leave you feeling comfortable hour after hour, day after day. Remember this, when you choose underwear. MOST of your underwear should be comfortable enough to be worn for an entire day.
The Business Hipster is characterized by flat stitched seams which give the boxer briefs a smooth finish and add to the comfort. The double layered pouch is essential in everyday mens' underwear. Finally, the flat elastic waistband isn't too wide and has a subtle design with a horizontal pinstripe around the top.
Verdict: This Sloggi boxer brief will complement any man, regardless of body type and personality. It's a classic white style, but that doesn't make it boring. At $24,50 per pair, you can easily get 3-4 pairs for your everyday activities where comfort is the prime underwear objective.

Sloggi for men drive hipster
The Mens Sloggi Drive Hipster takes first place as the best boxer brief style. The white cotton boxer brief (again, 96 % cotton and 4 % elastane) has overlapping vertical and horizontal lines of blue, orange and olive green for a super retro looking pattern design. The funky look is completed with the flat elasticated waistband in a dark orange color.
Verdict: The Drive Hipster style sells for a cheap $20 and takes the top spot on the Sloggi boxer brief countdown because it suits all purposes. The comfortable cotton-based fabric means you can wear this style every day, all day. This stylish cut makes it perfect for festive as well intimate occasions. Guys will admire you in the locker room, and in the bedroom the neat pattern and color design will complement any body type and size.
Get yours at Dead Good Undies.
GD Star Rating
loading...
Mens Sloggi is so much more than that Basic range that you've probably seen on offer at many online underwear stores.
Sloggi has had to overcome a strong image as a women's brand, which has made it hard for many men to accept Sloggi as a real men's underwear brand.
But listen up guys, forget what you think you know about Sloggi as a men's brand. Today, Sloggi offers so many different styles and collections for men in proper quality.
Fun fact: By the time Europe's best selling underwear brand celebrated its 25th birthday in 2003, more than 1 BILLION pairs had been sold!
Today and tomorrow I will guide you to the best men's Sloggi briefs and boxer briefs.
In this blog post I take a look at the top 5 men's briefs by Sloggi.
Sloggi for men black midi brief
The Black Midi Brief's main features are a cotton rich black fabric with a subtle, shimmering and a, for Mens Sloggi, quite wide waistband stitched with large Sloggi logo. The brief gives you a slightly enhanced shape thanks to the extra fabric layer behind the pouch. Every man will feel comfortable in these as they are made from the classic cotton blend consisting of 96% cotton 4% elastane.
Verdict: The mens Sloggi black midi brief is a great-looking, comfortable black brief that's not too daring in design and fit. A safe bet for any use, and these briefs will set you back no more than $15.
Sloggi for men splendid brief
Sloggi ups their game in terms of pattern and fabric choices with the stylish Splendid range. This classic brief is made from a silky smooth manmade fabric with a neat-lookin striped effect going all the way round in air force blue, white and burgundy which meets in a 'V' at the double layered pouch at the front.
The folded edge waistband houses a discrete Sloggi tab in the coordinating blue and white on the left hip. The silky smooth fabric, made from 45% Polyester, 41% Nylon and 14% Elastane, and folded leg hems makes for quite a close fit. This pair is among the cheapest of the bunch clocking in at around $15.
Verdict: A fun-looking men's brief in a smooth fabric for those days when you want a more stylish and fashionable underwear look. Will get some looks in the locker room and the bedroom, but only the good kinds, as this brief is not too controversial.

Sloggi Iwear 2.0 mini brief (low-rise)
The iWear 2.0 Mini brief (that name is sooo 2007) is best in the dark Grey marl version. As we see with most mens Sloggi styles, it has a double layered pouch and flat stitching for a smooth finish. The waistband comes with horizontal grey stripes and bold Sloggi branding in white. The iWear collection also includes Short and boxer briefs/trunks containing the same colour combinations.
As was the case with the black midi brief the fabric is a very comfortable blend consisting of 93% cotton and 7% elastane.
Verdict: This style will definitely appeal to guys looking for comfortable, low-key underwear that at the same time accentuates your assets in a cool, understated fashion. A low-rise style will always give men a more sexy look than the regular alternative. Choose this style if you want comfort and recognition without causing too much of a stir. This pair of briefs is listed at about $18.
Sloggi signature cotton modal brief
No top 5 men's brief list without a classic but stylish tighty whity brief. The strength of the Signature Mini Brief is its white fabric in 46 % cotton, 46 % micromodal and 8 % elastane – a fabric blend that always creates a super soft and stretchy look and fit. It will also make the shape of the underwear last longer.
The signature cotton modal brief is also equipped with double layered and the towelling lined waistband has stylish feel to it with neatly designed horizontal stripes and Sloggi logos at regular intervals.
Verdict: If you are a man who swears to the classic white brief, this is the underwear for you. Comfortable, a good fit and durable in a stylish finish and with a properly designed waistband that's not too wide and daring. A twin pack will set you back about $23 – that's about $11,50 per pair.
Sloggi for men fun midi 07
The Fun 07 Midi Brief's features a black multi strip pattern with diagonal stripes in black, dark red, green and light blue forming V shapes which meet at the centre seam of the double layered pouch. This color design is subtle and only slightly daring. The understated design really works for this style.
The fun midi 07 brief has a classic shape with a black waistband stitched in relief with the Sloggi logo at regular intervals. You can't really see the Sloggi logos from a distance, and I really like that Sloggi dares not to pump out their brand name on this style. It gives a nice clean look.
The fabric is made from 96% cotton 4% elastane, which really is the most comfortable blend if you are looking underwear to wear all day.
Verdict: The best combination of proper fabric blends, a great look and color design and a waistband with understated logos. The Mens Sloggi Fun Midi 07 brief tops the briefs list and will set you back no more than $18.
Check in again tomorrow when I list the top 5 men's boxer brief styles by Sloggi.
Get your Mens Sloggi underwear at Dead Good Undies.
GD Star Rating
loading...
Piss and Vindegar and Ginch Gonch go head to head and both release an "I Love" men's underwear collection. Awkward or clever? Intended or unintended?
UPDATE Feb. 28: Both the companies have replied to this post. Scrool down and see for yourself in the comments section.
Who cares, as long as they both got hot underwear ads, right? Ha!
Anyway, in this blog post I will take a look at the two underwear collections and determine which is the most "lovely".
So, this is interesting. I stumbled upon a post by UndieFan about Piss and Vinegars new "I Love" collection. I was somewhat surprised as just a couple of days before Men's Underwear Blog ran a post introducing the new collection by Ginch Gonch called…you guessed it…"I Love".
What's up with that? And the plot thickens once you consider that the founder of Ginch Gonch is the one who created Piss & Vinegar, where he is currently employed (his name is Jason Sutherland). Piss and Vinegar's collection was released first (which they firmly underline in a comment to this post), and I checked – it's true – Piss and Vinegar announced their collection long before (1st of November 2009, according to their comment below) Ginch Gonch made their I Love collection public.
Quite the drama in the world of men's underwear :)
Anyway, this situation begs the question – which of the two underwear collections is the best? I know both brands in terms of quality and fit, but I haven't tried these specific cuts on yet. I am still waiting for Piss & Vinegar and Ginch Gonch to send me some complementary samples (like that's gonna happen…), so this review will be based on the video and image material I could find on the net.
As Piss & Vinegar came out with their collection first, I'll start with them.
Piss and Vinegar "I Love" underwear for men
Piss & Vinegar comes out strong with 3 different print designs in the I Love series. Piss and Vinegar (as well as Ginch Gonch) does excellent print design (duh, they were designed by the same guy), and men looking for stylish underwear can choose to "love" either Jesus, Buddha, or Boys.
For the sake of of simplicity (and because I like them better) I will stick to the men's low-rise briefs style in this review, even though the collection comes complete with styles including regular briefs, jockstraps, and boxer briefs.
I really like the design of the I Love underwear collection by Piss and Vinegar. The graphic design is calm, yet interesting, and the color choices are bold without being all over the place and thus provide nice contrasts.
Finally, the waistband isn't over-sized but complement the design perfectly, and I can't help but love (pun intended) the logo design. Though the phrase "Piss and Vinegar" is actually an age old saying (meaning something like full of youthful energy) it's still somewhat controversial and this is nicely understated in the logo font choice. Brilliant!
Piss & Vinegar underwear is usually top quality and a great fit for everyday use, but the brand is upscale, no doubt. A pair of men's briefs like the ones on the pictures above will set you back about $25,50. The Fabric of this collection is a blend consisting of 96% Pima Cotton, 4% Lycra-Spandex.
P&V actually did two raunchy video ads for this new collection, and you can see them at the bottom of the post. They are not really my cup of tea, mostly because they don't show off the underwear…
Ginch Gonch "I Love" underwear for men
UndiesDrawer described Ginch Gonch's I LOVE collection as incorporating various design styles such as neo pop art, gritty 1970s punk rock, 1950s commercial art, and Japanese-inspired cartoons – generally the collection is supposed to be a celebration of the things that make us happy.
Ginch Gonch goes all in with this collection offering 6 different print designs based on the following topics, Burgers, Bacon, Boys (where have we seen this before…), Girls, London, and Tokyo. Certainly, men into underwear will have plenty to choose from, and the mere fact that so many designs are offered must be praised.
As was the case with Piss and Vinegar, Ginch Gonch usually is proper quality and a great fit. So really, I can look only to differences in design and price here.
The sheer variety of the Ginch Gonch collection is a plus, but I just don't think the print designs are as interesting to look at as with Piss and Vinegar. The color choices and graphic contrast are too understated and, well, a little boring.
One exception might be the I Love London style which actually manages to catch my eye with the use of British-inspired tartan-like print.
Also, I think the waistband seems a bit to wide for this collection, which make the Ginch Gonch low-rise briefs look almost like regular briefs.
The Ginch Gonch I Love collection introduces the boxer short style as a new addition to the traditional lineup consisting of briefs, low-rise briefs, and boxer briefs.
The fabric type is almost identical to that of Piss and Vinegar, a 95% cotton and 5% Lycra blend.
Piss and Vinegar vs. Ginch Gonch – Love underwear for men – the verdict!
Now, had Ginch Gonch been priced noticeably lower than Piss and Vinegar, the "Love" race could have been an overall tie, but when a pair of low-rise Ginch Gonch briefs clocks in at around $29, then the scale has to tip in favor of Piss and Vinegar.
Put shortly, the styles by P&V are more stylish and cheaper. And we mustn't forget that Piss and Vinegar went to the trouble of doing some nice, though a little boring, ad videos.
Tell me what you think in the comments! Do you disagree?
Piss and Vinegar "I Love" videos
By the way, check out LazzyBum, Jason Sutherland's (P&V creator) latest underwear adventure!
GD Star Rating
loading...
It's been a while since I've posted a video featuring a properly produced mens underwear fashion show, so here's a really good one for you guys.
The men's underwear brand on display in this video has an interesting story to it. The brand is called Mondex and the collection on display is their men's line named Tuareg, named after a nomadic people who travel the Sahara. As you will see in the underwear fashion show video below, the African connotation of the Tuareg collection clearly influences the theme of the show.
Mondex Tuareg is low-priced fashion underwear for men
As you might have guessed, this underwear brand is definitely not American or Australian.  In fact, Mondex Tuareg is a popular Romanian brand of underpants, and though I have crawled the web to find online shops carrying the brand, I was unsuccessful in finding one that will ship internationally :(
It seems the styles are only sold in brick shops in Romania. It's too bad, because even though their underwear designs are not all the way up there with the best American and Australian brands, Mondex Tuareg got them beat by miles when it comes to price.
A nice-quality pair of briefs like the ones displayed below will set you back no more than $3-5! I need to visit Romania STAT, ha ha :)
Anyway, the models in the Mondex Tuareg mens underwear fashion show is displaying the traditional styles including briefs, sport briefs (tanga), boxer briefs, and trunks.
Enjoy, and please post a comment if you have any experience with this brand.
GD Star Rating
loading...
The Calvin Klein X Cotton and X Micro Collections are getting top PR these days. By now you've probably all seen the video of Twilight star and notorious hunk, Kellan Lutz, promoting the X collection in that behind-scenes-video from the CK X photo shoot.
Now, a new short Calvin Klein X promotion video is getting thousands of plays on Youtube. The video features male underwear models Nakata, Verdasco, Brooks, and of course Kellan Lutz.
The first video featuring only Kellan Lutz was a bit disappointing as it didn't show off the men's briefs that are offered with the collection, only the boxer brief was featured.
This time boxer briefs, trunks, and yes, briefs are being shown, and the men wearing them are not kidding around, asking the viewer if we want to see their…bleep… and if we want som f***ing more!!
Obviously, Calvin Klein wants the X collection to be a tough-ass range. Maybe they should have chosen an underwear model who is less of a pretty boy than is the case with Kellan Lutz…
Anyway, the styles look good :)
GD Star Rating
loading...
Ginch Gonch wants in on all the nation and city underwear branding! I am not sure why this fascinates me, but it seems like every men's underwear brand these days is introducing a line of country or city-specific briefs, trunks, boxers and so on proudly wearing your nation's flag.
Aussiebum's probably the champion of the flag underwear category with briefs and hipster trunks embellished with the national colors of an endless number of countries.
Danish underwear brand, JBS, too, hasn't shied away from shamelessly decorating their boxer briefs in Danish flags as a gimmick in connection with the 2010 football (soccer) world cup.
Niche men's underwear brand, Team8, joined the action offering their Nations brief in the national colors of Great Britain, Australia, and the US.
Even Calvin Klein has a range of national men's underwear.
Ginch Gonch underwear for men who loves London
Men's Underwear Blog directed my attention to the new 2010 I Love collection by Ginch Gonch. With the national colors of Great Britain splashed across the pouch area, the next styles are called I Love London and feature London iconography, like Ben Ben, printed all over.
In this promotional pic the I Love London Sport Brief is featured:
The Ginch Gonch I Love collection will be available with styles including briefs, boxer briefs, and even boxer shorts,  which is a new addition to Ginch Gonch's usual style range.
One funny thing about the promotion pic… Suspenders… They are making a comback in 2010, no doubt.
GD Star Rating
loading...
Aussiebum is releasing two new underwear ranges that will have men wearing basic colors rather than prints. This blog post presents the shift by Aussiebum from print design powerhouse to king of basic colors.
Aussiebum underwear for men is probably one of the very best brands at using video and online viral campaigns to promote their products. This is one of the reasons that I keep posting about them on the blog. And it doesn't hurt that Aussibum in fact produces high-quality and interesting men's underwear styles.
I've always recognized Aussiebum for their innovative print designs, which have graced numerous briefs and trunks underwear collections over the years, like the Manga and Collector collections: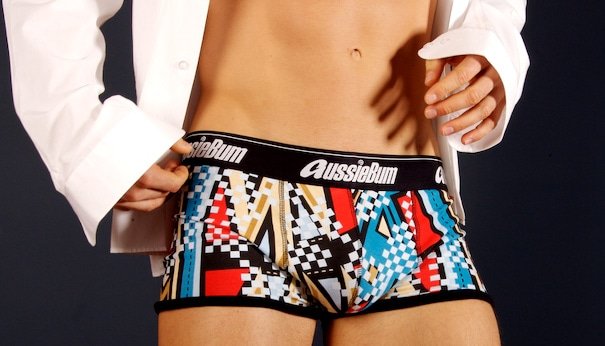 New ShowIt and Journey ranges go back to basic colors
These days, however, Aussibum is releasing the new Show It range as well as the interesting and all new Journey collection (read more over at Menswear review), which I have a video presentation of at the bottom of the post.
What we are seeing with these new underwear collections is a continued focus on classic (low-rise) briefs as the preferred style for men by Aussibum, but also a move away from the use of exotic print and pattern designs towards basic colors like black and white.
The Aussiebum ShowIt Range
The Show It Range is a good example of this trend, as it is only available in black and white colors. Though I really like Aussiebum's print designs, I have to say that these classic-styled briefs and trunks will have any man looking stylish in the bedroom, in the locker room, well, just about anywhere.
This underwear collection will appeal to the more conservative underwear consumer, who is looking for something less flamboyant in favor of the more classic cuts.
The Aussiebum Journey Range
Like the Show It styles, the Aussiebum Journey Underwear Range is limited to hipster trunks and briefs. However, Journey is a wider range when it comes to choice of colors, but the trend is clear – no print designs or flashy colors.
Aussibum want men to dress their private parts in either black, white, or red underwear. Here are some pictures from the new Journey men's underwear from Aussibum. Not that I am complaining. This guys certainly looks super classy in these basic colored briefs.
This underwear will go with you everywhere and compliment everything you wear, which is Aussibum's official vision for the new range. Also, watch the movie at the end of the blog post to get a better feeling of Journey briefs and hipster trunks.
The final proof… Aussiebum Banana underwear
The focus of the all-new Banana underwear range is actually more on the fabric from which the briefs and hipster trunks are made. Made from the weave of fibre extracted from the banana plant and mixed with soft organic cotton, these undies are supposed to be comfy, stylish and made with the conscious effort of ensuring minimal environmental impact.
There you have it :) The perfect underwear for the environmentally concerned male underwear consumer!
But what's also interesting is the color of the briefs in the video below. Again, the base color of the underwear is white with a green waistband and a yellow Aussiebum logo (I get it, banana colors :)).
But again, no print or fun banana patterns. It will be interesting to see if print designs on men's underwear is generally on the way out, or if it is just Aussiebum…
Print is still the trademark design of brands like Ginch Gonch and Piss & Vinegar, and I don't see these brands dying off just yet.
Want more Aussiebum videos? Also check out videos of the Aussiebum LockerBoy and New Classic collections.
Also, watch the all new Aussibum HUNK video!
And read my raving review of the Aussiebum HUNK brief.
GD Star Rating
loading...
I haven't seen a lot of buzz among my fellow underwear bloggers in connection with the release of the new mens underwear collection, Shawn, by Diesel. Via Sexy Undies I finally found the Shawn collection on sale at Figleaves.
2xist Surf collection
On the other hand, if you're into men's underwear fashion you must've been living under a rock these last few weeks to have missed the launch of the new Surf collection of men's underwear by 2xist.
All the major men's underwear blogs, including Underwear Fanatic, Speedo Junkie, Underwear News Briefs to Daily Jocks and Undie Fan, have been promoting the Surf collection. So there must be something to this new collection by 2xist.
The verdict: which is better, the Diesel Shawn collection or 2xist Surf?
The reason I am comparing these two collections is that they look extremely alike and thus hint something about the flashy and bright color trends influencing men's underwear fashion at the moment. Let's have a look:
In my opinion, Diesel and 2xist are both great quality mens underwear products. I've had a pair of Diesel boxer briefs as one of my favorite pair for ages. The same goes for 2xist, which is my preferred brand for briefs. I have too many pairs to count :)
So, both the Shawn collection as well as the Surf will probably be great quality, but when it comes to design, I have to say that the Surf briefs have a little more edge than the Diesel Shawn briefs. It's the little things like the slightly wider waistband and the blue edges around the legs. It just grabs my attention somewhat more than the Diesel brief.
The final nail in the coffin for the Diesel Shawn brief… the price. I found it on sale at the British version of Figleaves for £15, which is about $23. In comparison, the 2xist Surf brief is on sale at International Jock for just $15.
The verdict, then, in the mens underwear battle between the Diesel Shawn collection vs. 2xist Surf (based on the brief style) is that the 2xist Surf is the better choice in terms of value for money and design. When it comes to quality, it's a tie!
Do you disagree? Let me know in the comments :)
GD Star Rating
loading...